Company
KVI Travel is the operating name of KARRAM Ventures Inc. (named after my mother - KARen ORAM), a full service interline and retail travel agency that has been providing personal, professional, quality service to a global community of valued clients since 1998.
KVI is composed of over 100 highly experienced travel professionals with a wide variety of backgrounds in the travel industry including current and former airline employees, travel agency owners and managers, tourist attraction managers, industry executives and more. KVI's team has an incredible combined experience of over 2500 years in the travel business, making us one of the most knowledgeable and reliable interline agencies anywhere.
KVI is dedicated to doing what other agencies do not and can not - providing the very best individual personal attention to your needs, and backing that up with the most experience and lowest prices anywhere.
If you have any questions or comments about KVI, please feel free to contact me directly.
Cheers,
Kyle Oram
CEO / General Manager
Direct Phone: (250) 980-1600 (ext. 300)
E-mail: [email protected]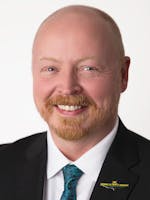 KYLE ORAM
CEO
HEAD OFFICE
KVI TRAVEL
201 Kingston Street
Victoria, BC, Canada. V8V 1V5
TOLL FREE: 1-888-768-6777